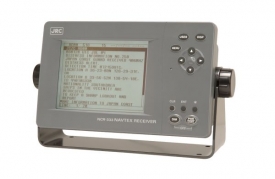 The high-performance NCR-333 NAVTEX integrates a high visibility LCD display, shares the same simple configuration as its predecessor and contributes to improved safety at sea.
The NCR-333 NAVTEX integrates a high visibility 5.7" LCD display. You can select the character type on three different level sizes, all at your own convenience. On top, JRC has included dimmer control, maximising your display preferences as optimised as possible. These functions are selectable from the menu.
The NCR-333 receives NAVTEX broadcasts on the frequency channel 518 kHz, and either 490 kHz or 4209.5 kHz. The NAVTEX automatically receives broadcasts on the international standard frequency 518 kHz. Local transmissions of NAVTEX use the 490 kHz channel. The high frequency channel 4209.5 kHz is allocated for NAVTEX broadcasts. The NCR-333 also allows you to select and deselect certain types of information and coastal stations with the purpose of avoiding repeat broadcasts.