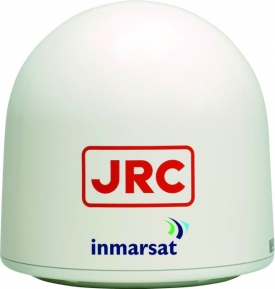 The JUE-250, a pioneering next-generation satellite communication terminal, delivers the most advanced maritime service available, fully contributing to the operational efficiency of vessel and crew.
Proven antenna design
JRC adapted its three-axis control, which is a proven stable system and the best way to keep the size of the antenna to a minimum. Our company's long experience of antenna design ensured the antenna is robust and easy to install. No gyro or GPS input is required and it benefits from having no cable under the radome, which means there is no need for 'cable unwrap' manoeuvres to free cable that has become twisted as the device moves to locate the satellite.
A vital resource
By integrating the JUE-250 onboard, a captain would be able to use FleetBroadband to talk to his port agent while simultaneously perform a host of other duties, from updating weather information, route planning to maintaining the crew morale by enabling them to call and email with family and loved ones or to browse the internet – a degree of flexibility never before possible.
Optimal connectivity
Based on 3G standards, FleetBroadband will provide constant, simultaneous access to voice and high-speed data, capable of supporting always-on broadband connectivity at speeds up to 284 kbps and streaming IP data rate of up to 128 kbps.
Additionally, it allows users to send and receive SMS messages of up to 160 characters, a feature that is proven popular with crew who are used to texting from their GSM mobiles while on shore.