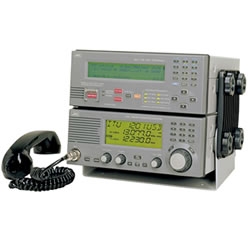 The JSB-196GM MF/HF radiotelephone is a new generation of economical marine transceiver. Its high functionality design complies with the GMDSS A2 area requirements. The JSB-196GM fully meets the latest regulations for maritime MF/HF communications by connecting the NCT-196 DSC terminal with a built-in watchkeeping receiver.
The radiotelephone system consisting of the JSB-196GM, covering the frequency range of 1.6 to 27.5MHz and the NCT-196 DSC terminal with internal DSC watchkeeping receiver conform to the applicable regulations, including the IMO performance and national standard.
The JSB-196GM radiotelephone uses a 32 bit floating point for digital signal processing after the IF stage. The DSP technology improves a wide range of functions, including noise reduction and
various types of interference rejection, ensuring enhanced performance.